I came across this quote from North 20°54, West 156°14, a personal essay by Maggie Messitt on Bending Genre. "Maps are about boundaries and perception. They are about recognizing and being recognized."
It is a beautiful place
One summer as soon as school was out, our parents took us to their little island in the Caribbean. It was the late 1960's; it was the year my paternal grandfather died. It was unexpected. I don't remember him, and I don't think he ever met the twins. That's probably why they made an effort to get us over there to meet the family now. I was apprehensive at first. My Dad was staying home, but we were going for the whole summer! I was starting my teenage years, which is a big deal in itself but on top of that, all I knew about Puerto Rico were the stories my parents had told me. Whenever they got together with my aunts, uncles and older cousins, they would tell the stories of the "good old days." According to my parents, "It is a beautiful place! Just wait and see."
Who are we?
The teen years are confusing. It's a time when we are trying to figure out who we are. We had moved to this neighborhood a couple of years ago. At first, we were told that we could not speak Spanish outside of our new apartment. Should I be ashamed to speak Spanish? Is there something wrong with speaking Spanish? In order to get this apartment in a "better neighborhood" (read white, blue-collar), my dad had lied and told the landlord that we were Italian. My parents were afraid if she found out we were Puerto Ricans, she could kick us out. Should I be ashamed to be Puerto Rican? We are a light-skinned bunch, and my mother had blue-green eyes. We were able to pull it off – we "passed." The Fair Housing Act was signed in 1968. In Current Events class, we briefly touched upon the Civil Rights movement, but I didn't make a connection to what was happening to us. When my parents thought it was safe to do so, they told her the truth. We lived there for many years after.
Puerto Rico had been a United States territory since 1898, and the people were granted United States citizenship one month before we entered World War I in 1917. Wilson signed the compulsory military service act two months later. Puerto Ricans have been serving in the military ever since. In school, we just briefly touched on its history. All I remembered from history class was that it was an island that Spain gave to the United States after they lost the Spanish-American war. Should I tell my friends I was going to Puerto Rico? I don't know if they knew. I was born and raised in the North East. I looked and sounded just like them. How would they know?
What a beach!
As our plane approached the island, I began to feel excited. Maybe it wasn't a bad idea after all. The colors were the first thing that amazed me. My siblings and I strained to catch a glimpse through the tiny windows. From the sky, we could see the crystal clear turquoise waters and sandy beaches like superfine white sugar. I remembered during my aunt's visit, she was so disappointed to see the beaches in New York. "You call this a beach? You have to come and see what a real beach looks like." She laughed. Now I understood what she was talking about. Compared to this, Manhattan Beach, Brighten Beach, Coney Island looked gray and dirty. There were no boardwalks and no amusement park rides, but it was breathtaking. Beyond the water, we could see the vibrant greens and browns of the mountains with ribbons of rivers running through them. I decided then; I was going to enjoy this adventure.
My mother's youngest sister, "Asore" still lived at home with her parents. She had taken time off from work to show us around. Our first trip was to the beach of course. I couldn't get over how clear and warm the water was. The waves didn't crash on shore; they gently rolled in and quietly rolled out. We didn't need a beach umbrella; we had put our things between two palm trees and hung a hammock. To this day that is my mental go-to place; effortlessly rocking in the hammock and listening to the sounds of that beach. Afterward, she took us to the thatch-covered eateries that lined the road by the beach as we headed home. We each tried something different rellenos-de-papas, (deep fried meat filled potato balls), alcapurias de jueyes (root vegetables filled with crab meat), and meat-filled turnovers, just to name a few. We were in heaven! Everything was delicious.
Spaceships in the mountains, crawlers in the water
The next stop was El Yunque National Forest, the only tropical rainforest in the United States. My aunt said that many believed spaceships regularly landed on very top of the mountain. We explored the mountain and the waterfalls. Before we left, we swam in one of the pools that form along the river. I had never been swimming in a river! The water was cold, and I was afraid of what else might be swimming there. On the way back we bought tropical fruit on the side of the road. During that summer we traveled with my aunt and crisscrossed the island at least a couple of times visiting many beautiful places. There are plenty of travel blogs and magazines that talk about the wonders of Puerto Rico. This blog is about perception, awareness, and self-discovery. It's about a young girl recognizing that there are no boundaries.
Who are these people?
As we visited and got to know family and friends across the island, I began to see Puerto Rico different from what I had imagined. We spent time with cousins our age; boys and girls who laughed and played like our friends in New York City. They used dried palm tree shafts like sleds to go down the grassy hills in the countryside just outside of town. They confidently walked right by the cows and pigs as we stared and walked cautiously slow, afraid that any sound or fast movement might call attention to us. Our cousins fished in the creek and showed us how to collect tadpoles in a glass jar. I don't usually like tadpoles, but at the time I thought it was all fun and so exciting.
In New York, I didn't know any Puerto Ricans outside of my family. The ones I saw depicted in movies or on television did not reflect my reality. No one in my family had been to jail or belonged to gangs or sold drugs on the street corners. We went to school and church. My family in New York was tight-knit and made up of all hard working folks, trying to survive all the challenges that came their way. They were printers, handymen, electricians, seamstress, and clerks. I didn't know of any Puerto Ricans who were doctors or lawyers. In school, we didn't learn about the artists, poets, musicians, actors, comedians, songwriters and authors. Here we learned that my grandfather's brother had been the Mayor of their hometown. Our great-grandfather had been a well-known troubadour. Other family members were respected members of the community. It was a life I had seen on TV, but here the characters were real, and they were Puerto Rican.
For the love of art, music, and literature
I was glad my aunts took the time to take us to museums and talk to us about our history. We got to listen to some of waltzes and ballads that were written by Spanish and Puerto Rican composers. There was a Symphonic Orchestra! We saw the folk dancers in streets of San Juan and heard traditional music, played on instruments that originated on the island.

I fell in love with Old San Juan and the fort that protected it El Morro (Castillo San Felipe del Morro). It's still picturesque and quaint, something that you would think of finding in Europe. It was old Spanish Colonial architecture painted in pastels and cobblestone streets where I imagined the Spanish senoritas walking with parasols. I was amazed at all the cultural richness that I found. Yes, I was already a nerd back then, and at the end of the trip, I wanted to twirl on the lawn of El Morro and down the streets of Old San Juan like one of the protagonists of a Roger's and Hammerstein musical. Picture Julie Andrews as Maria VonTrapp singing "the hills are alive with the sound of music."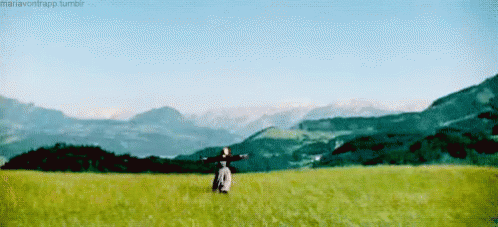 A new me
When school started, I had been excited to share all this with my friends back home. My aunts had given me books and souvenirs that told our story, and I brought these things to school. My friends were not interested, not even the pictures of cute Puerto Rican pop stars made them look. They were still in seventh and eighth grade, and the world didn't matter much beyond the cute boys in the next class.
I was hurt at first, but no one could take away what I had learned that summer. I wrote about it in my English class and had a piece published in the school yearbook. I argued with my history teacher and told him whatever he was teaching had nothing to do with me. (He was great though. He became one of my favorite teachers, and I Aced his class). In Orchestra class, I played my cello as if I was playing at the Pablo Casals Festival in San Juan.
I was glad we made that trip. I'm pleased with this assignment. Though not a typical road map, it took me on a fabulous journey. "Maps are about boundaries and perception. They are about recognizing and being recognized." Maggie Messitt
How about you? Have you ever been "home" at a place you've never been before?
Day Seventeen: A Map as Your Muse #everydayinspiration